Sustainability
Sustainability
Products That Contribute to Solving Social Issues
Aiming to Be a Real Estate Company Needed by Society
The OPEN HOUSE Group started as a real estate broker of single-family homes in Tokyo's Jonan area, which includes the Minato, Shinagawa, Meguro and Ota wards, and later added the sales of built-for-sale houses and condominiums and worked to expand that business area. Through our business activities, we have come to realize that what people desire in a "house" has changed together with changes in their sense of value and lifestyles. We would like OPEN HOUSE to be a company that accurately grasps these changes and diversification and continues to provide our customers with options for "houses" that meet their wishes and various changes in society. In Japanese society, given the near certainty of an anticipated decline in the population along with the aging society and falling birthrate, we believe that the real estate environment will enter a very challenging phase. However, even under these conditions, by offering "houses that customers want," we will continue aiming for further growth to be a company needed by society.
OPEN HOUSE Group's CSV: Providing Houses That Customers Want
As stated in our corporate philosophy, the Group will continue our diligent pursuit of providing houses that customers want while engaging in business that fulfills our mission of "leaving a Japan for the next generation where working people can afford houses in urban areas." By aiming to solve the following social issues and promoting our original initiatives, we provide customers with "houses at affordable prices in urban areas" through our business and are working to fulfill needs for both social and business value by creating shared value (CSV: Creating Shared Value). Through our business activities that support dual-income households and families with small children where one or both parents work, we hope to contribute to the creation of a sustainable society.
Social Issues Recognized by the OPEN HOUSE Group
Social Issue (1) - It has become difficult to purchase housing at an affordable price in large cities in developed countries
Comparison of Housing Affordability in Metropolitan Housing Markets (Comparison of Median Multiples for Markets With a Population Over Five Million Residents)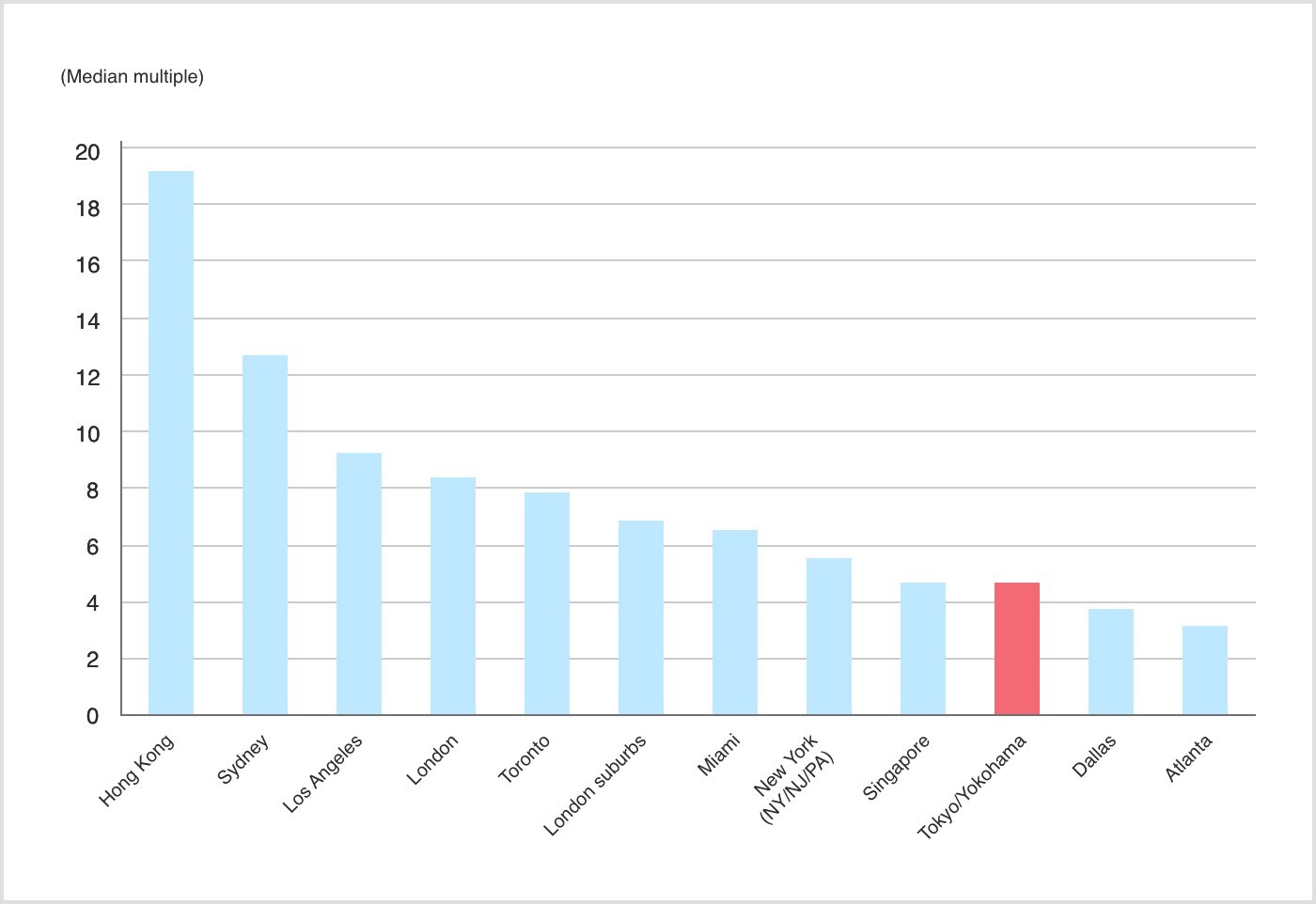 Source: Demographia, 14th Annual Demographia International Housing Affordability Survey: 2017
The median multiple is calculated by dividing the median house price in markets with a population over five million residents by the median household income
Changes in the Average Price of Condominiums in the 23 Wards of Tokyo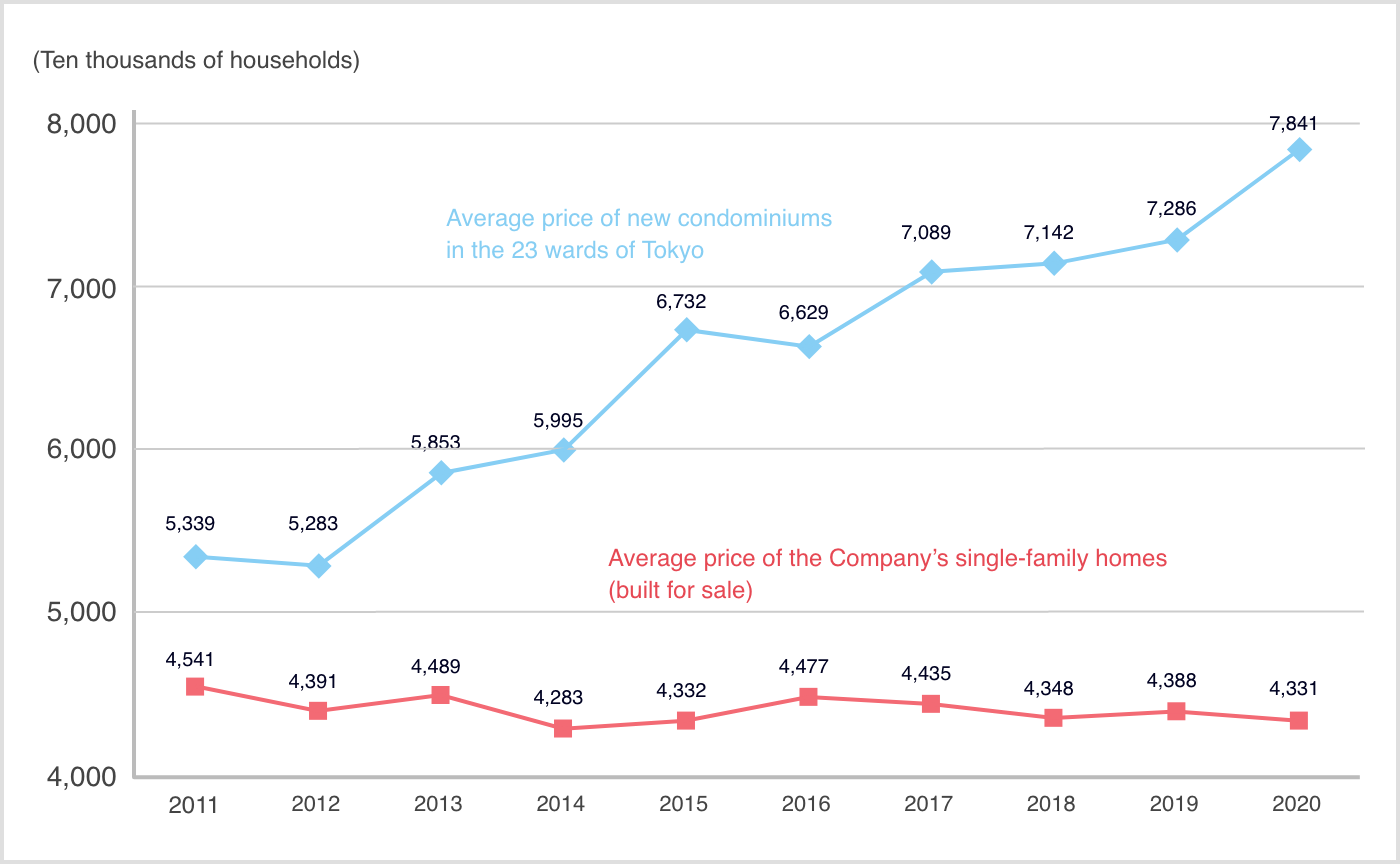 Source: Land General Information Library of the Ministry of Land, Infrastructure, Transport and Tourism, Monthly Report on Real Estate Market Trends
Fiscal years: Condominium prices are on a calendar-year basis and the Company's single-family home prices are for the period from October of the previous year to September. Prices are for the Tokyo metropolitan area and do not include Nagoya.
Note: For 2020, average price of condominiums in the 23 wards of Tokyo is for the period from January to September 2020; and the average price of the Company's single-family homes (built for sale) is for the period from October 2019 to September 2020.
Social Issue (2) - 70% of households in Japan are dual-income households with an average annual household income of 7.85 million yen (approx. $71,000)
Dual-Income Households and Households With Full-Time Housewives (nationwide)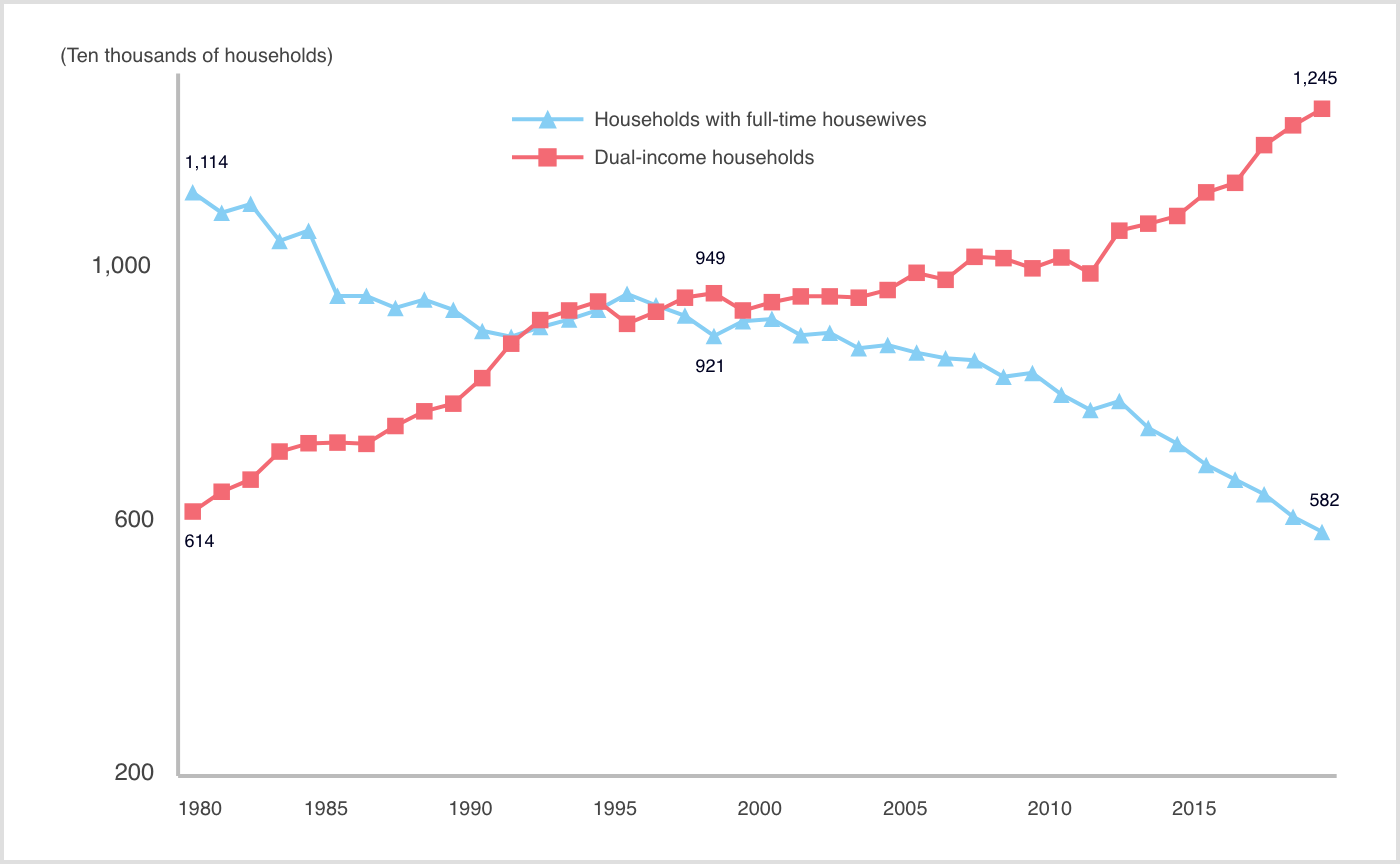 Sources: Cabinet Office, The White Paper on Gender Equality 2020, and Ministry of Internal Affairs and Communications, Labour Force Survey (Detailed Tabulation)
Household Income and Individual Income (23 Wards of Tokyo)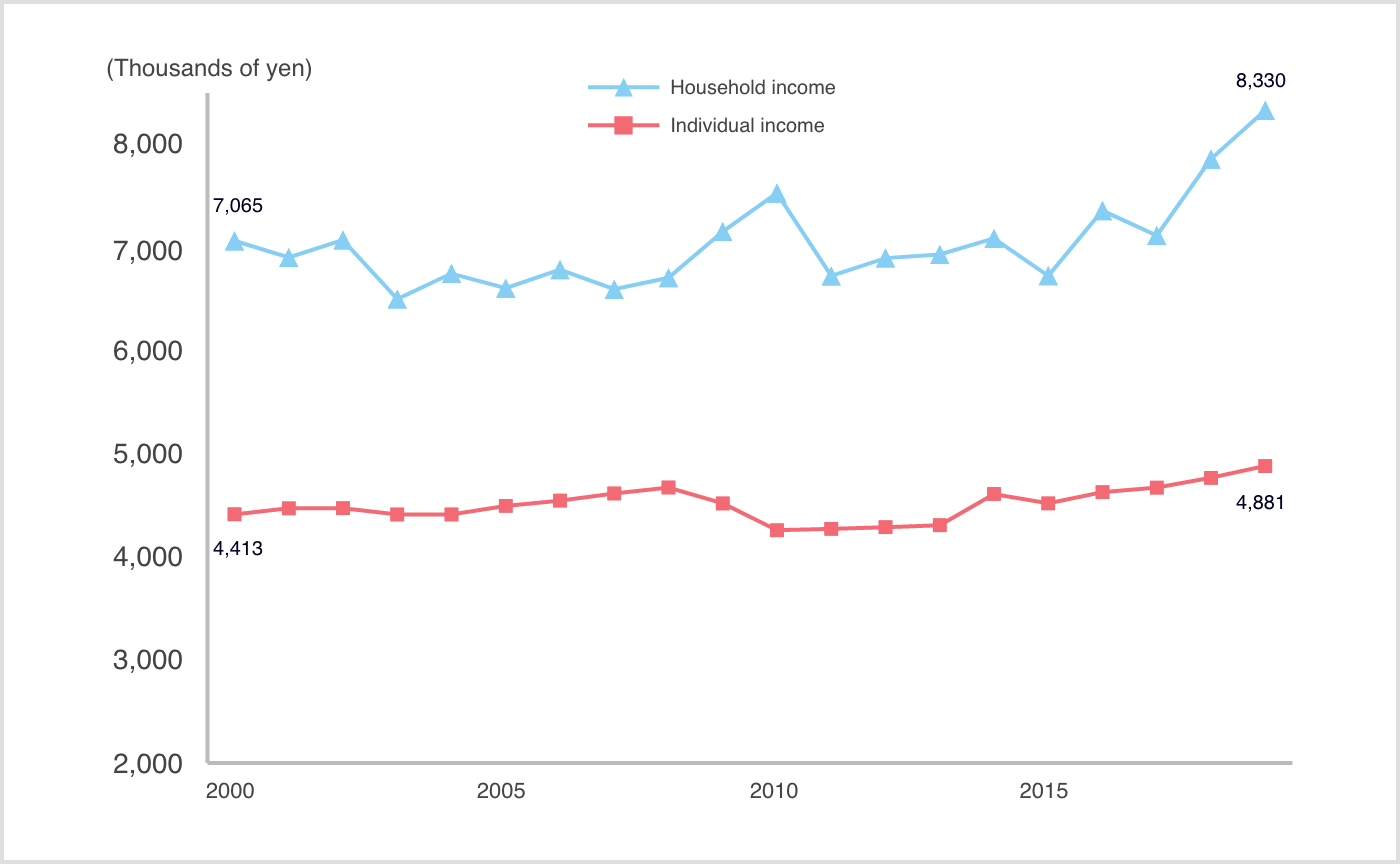 Sources: Household income is annualized based on the actual monthly income of two-or-more-person households (workers' households) in Family Income and Expenditure Survey by the Ministry of Internal Affairs and Communications.
Individual income is calculated by dividing taxable income by the number of taxpayers in Survey of Municipal Taxation by the Ministry of Internal Affairs and Communications
OPEN HOUSE, a Comprehensive Real Estate Group
While recognizing the above social issues, the Group has established a value chain with an "integrated system from purchase and construction to brokerage and sales" where we handle all aspects from purchasing land to design, construction management and sales as our business model to quickly reflect customer preferences in purchases and provide a stable supply of affordable houses in convenient locations. By doing so, we are working together with our partner companies to solve the issues.
Integrated System from Purchase and Construction to Brokerage and Sales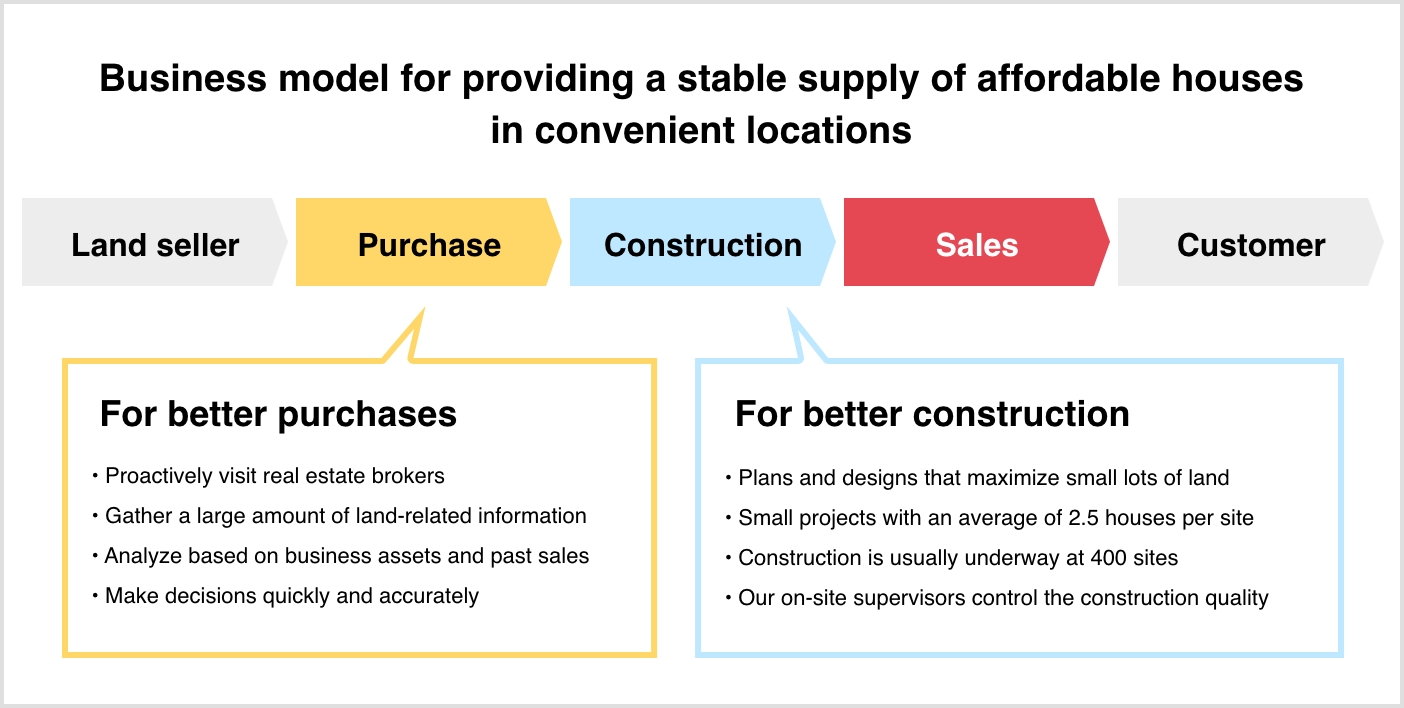 Urban Redevelopment Aimed at Solving Social Issues
Providing Single-Family Homes in the 40-Million-Yen Range (Approx. $363,000) in Urban Areas
Together with the changing lifestyles of Japanese people amid the falling birthrate and increase in the number of dual-income families, changes have appeared in the needs of customers, such as "being close to the train station is more important than the size of the house" and "as a dual-income household that is usually not home during the day, getting a lot of sunlight is not a high priority." Particularly for dual-income households in urban areas, the needs have been changing from "a large house even if it is far from the city" previously to "my own home in the city even if it is a bit more compact."
The Group was among the first to uncover these potential needs and actively worked to provide three-story houses on small lots of land. By purchasing land in favorable locations and developing the sites after dividing the land, we are able to provide products that meet the needs of society for affordable houses with good access to public transportation to more customers, and the Group's core business has continued to expand.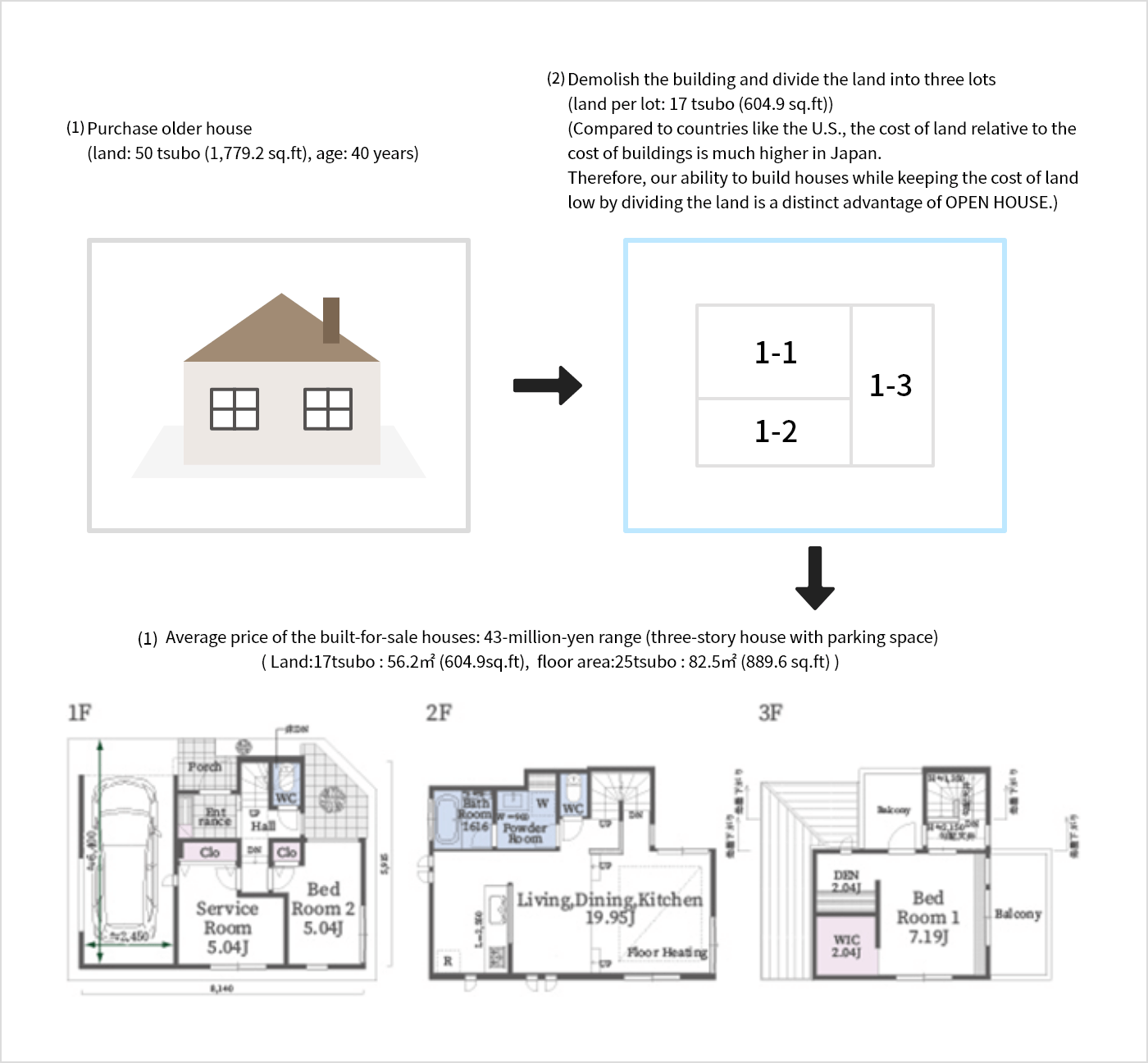 Rebuilding Older Houses
Of the wooden houses in the areas where the Group currently conducts business, the number of very old houses with an age over 40 years built in 1980 and earlier account for approximately 25% of the total*.
By replacing these houses, which have insufficient fire-resistance, quake-resistance, and insulation performance, with new houses, we believe that we contribute to society by strengthening our ability to respond to natural disasters and by helping to prevent global warming.
* Ministry of Internal Affairs and Communications, 2018 Housing and Land Survey
Revitalizing Communities
The houses that are subject to redevelopment are mostly older houses and tend to be vacant. By replacing these houses to suit the needs of the working generation, we help to revitalize communities by increasing the number of families with small children and other residents in the area.
Utilizing Land Effectively
The average land area per lot for a single-family home before redevelopment is approximately 40 tsubo (132.2㎡, 1423 sq. ft)*¹, and the land price per lot based on the average price in residential areas is 78 million yen (approx. $709,000)*², which is considered to be too expensive for a typical company employee to purchase. The Group provides affordable houses in the heart of the city by dividing land into multiple lots to reduce the cost per lot while ensuring sufficient floor area by building three-story houses on compact lots.

*¹ Ministry of Internal Affairs and Communications, 1988 Housing and Land Survey
*² Calculated based on the average land price in residential areas of the 23 wards of Tokyo in 2019 Land Price Survey by the Tokyo Metropolitan Government Bureau of Finance
ONE TREE, MAKE A FOREST PROJECT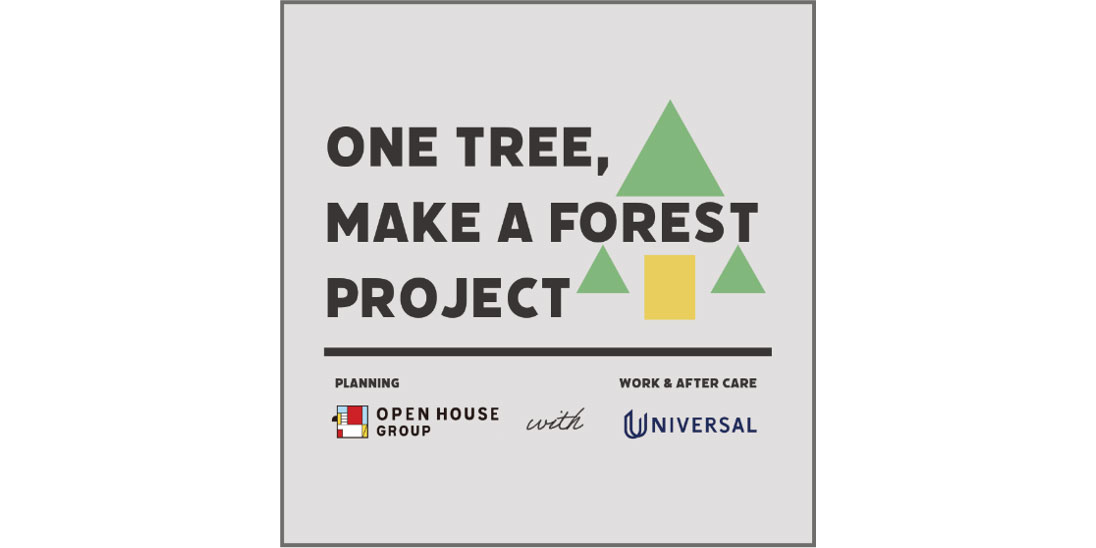 To contribute to biodiversity, we engage in community development focused on the natural environment of towns by planting well-balanced greenery.
As there is limited space for green spaces around urban homes, we aim to create green environments by creatively placing planters in the small spaces by front doors, etc. using our experience and planning abilities in urban home design.
We started the "ONE TREE, MAKE A FOREST PROJECT" in May 2021 and, through collaboration with Universal Engeisha Co., Ltd., will propose lifestyles in which families can enjoy living in houses in the city with trees nearby.
We will continue our efforts to contribute to society through our core businesses.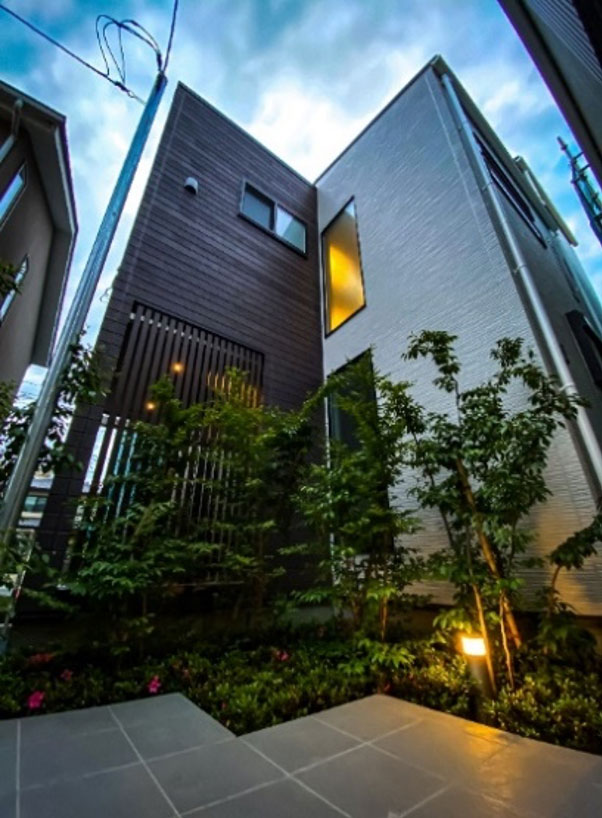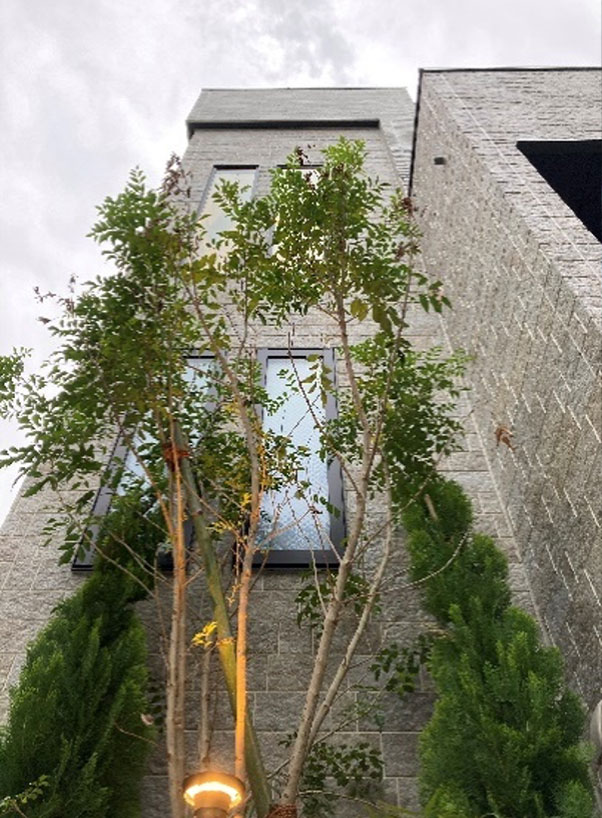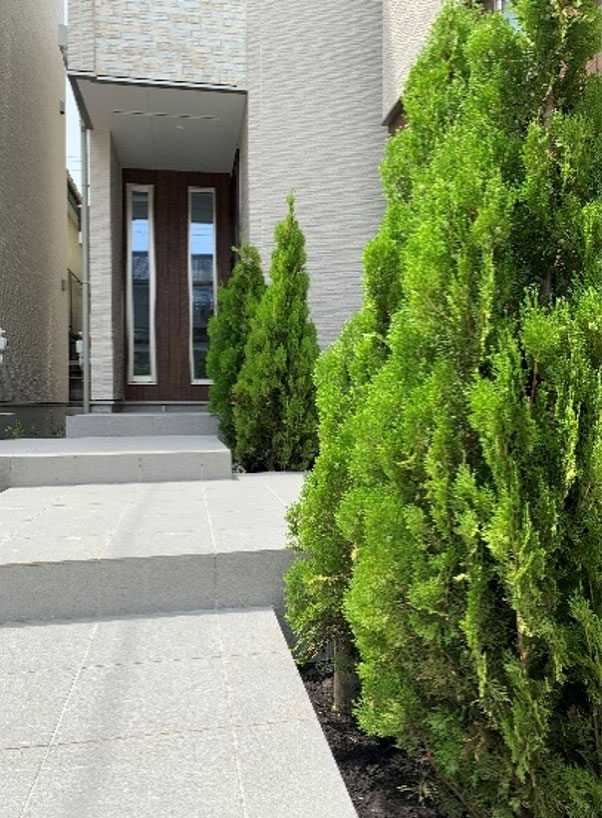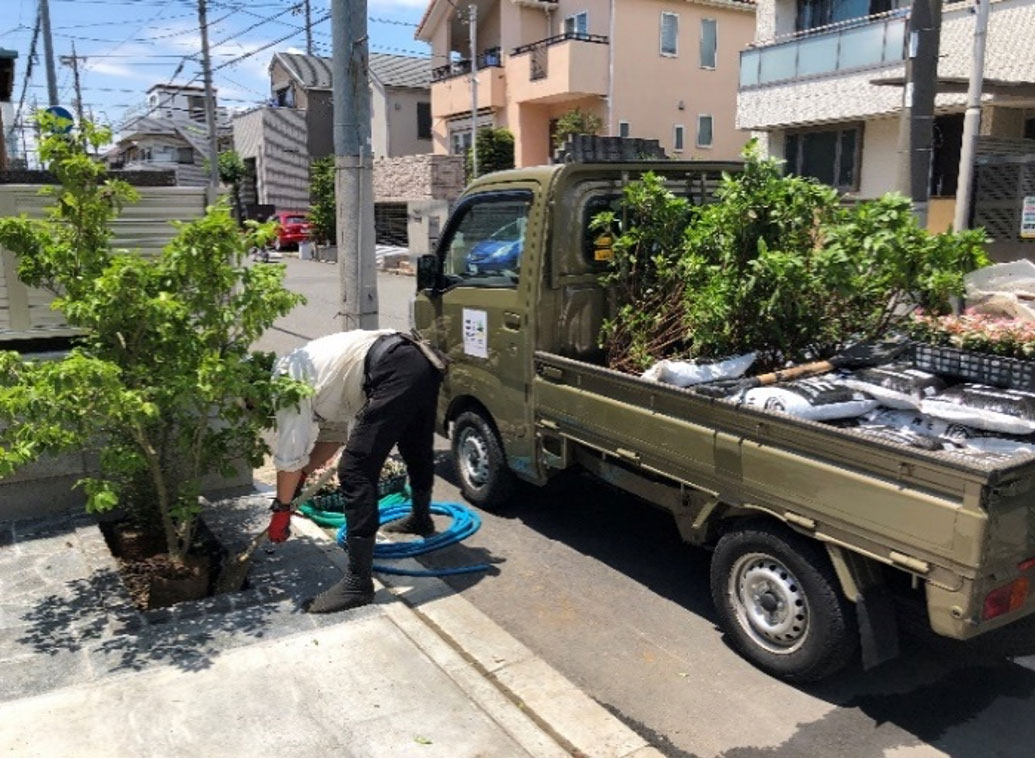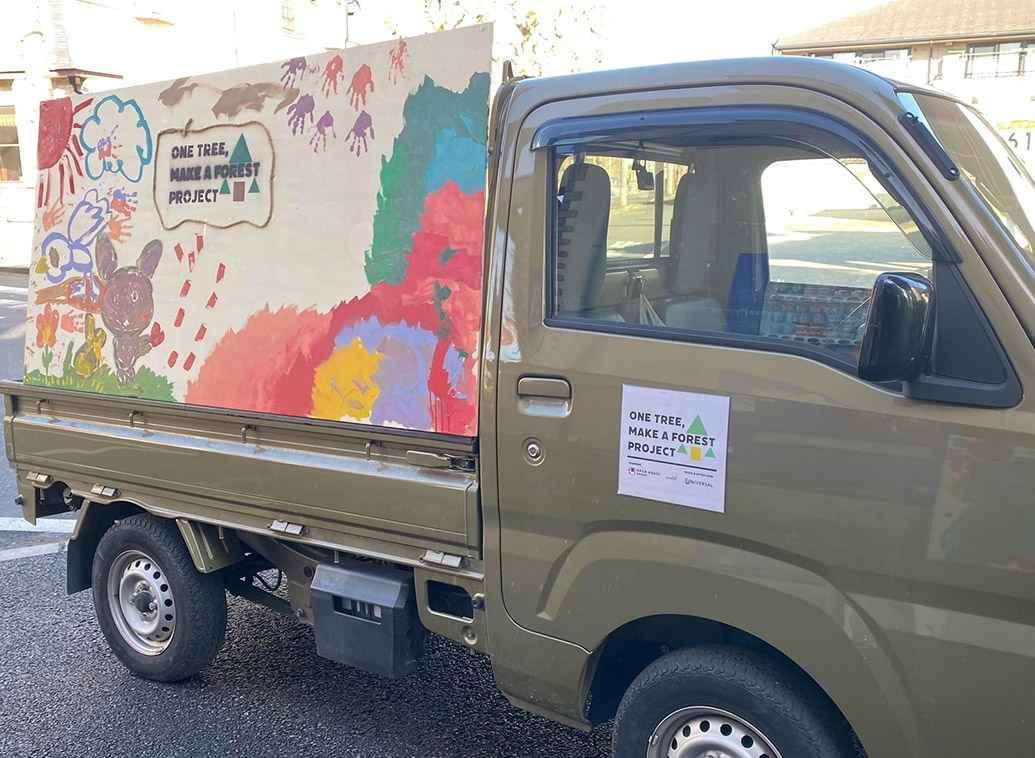 Responding to New Lifestyles in the Age of Post COVID-19
As the COVID-19 pandemic spread, our lifestyles changed drastically. While families have been able to spend more time together at home, the demand for workspaces in houses rose due to the increasing opportunities to work at home. Because single-family homes have many individual rooms, we are able to respond to new lifestyles by utilizing small spaces to provide workspaces.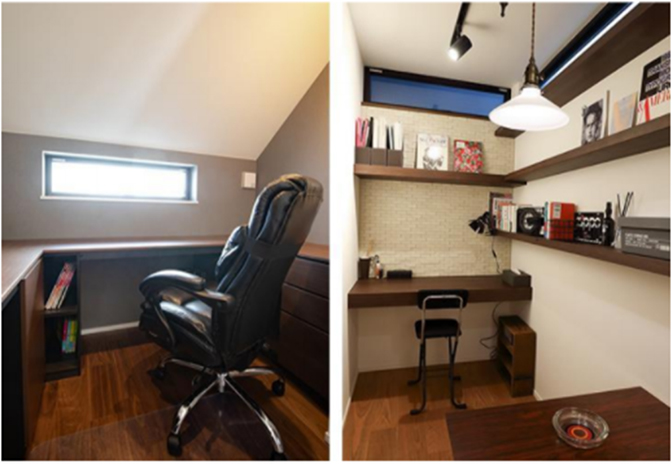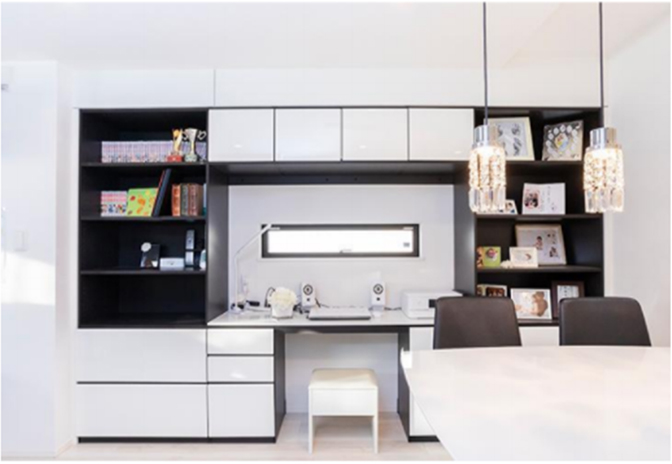 Note: The above photos show examples of houses, including available options.
Access to Public Transportation
Most of the Group's main customers in the single-family homes related business are dual-income households and families with small children where one or both parents work. In cases where both the spouses commute to work, there is a strong tendency to place priority on convenience of using public transportation to shorten commuting time as it can be a significant burden on households. Therefore, the Group focuses on our customers' convenience of using public transportation and provides properties in urban areas in locations that are mainly within walking distance of public transportation (train stations).
In addition to the single-family homes business, the Group also has the condominiums business targeting single- and two-person households that provides properties in locations mainly within a five-minute walk from public transportation (train stations) as these customers desire greater convenience.