Sustainability
Sustainability
Compliance
Approach to Compliance
The OPEN HOUSE Group has established compliance management as one of our most important management issues and is advancing various initiatives. In addition to promoting compliance management, we have established the "Employee Code of Conduct" as behavioral guidelines that all Group officers and employees should follow to realize the Group's basic philosophy.
In addition to legal and regulatory compliance, the Employee Code of Conduct stipulates our involvement with stakeholders (relationships of trust with customers, and understanding and support of shareholders, creditors, etc.), information management, creation of an environment for employee solidarity and self-growth, care for the global environment, prohibition of involvement with antisocial forces, social contribution activities, etc.
Approach to Corruption Prevention
The OPEN HOUSE Group recognizes that corruption and bribery are material risks which can seriously damage our corporate reputation.
Fraudulent profit sharing with public officials, etc. and excessive giving and receiving of entertainment or gifts with business partners and related parties which can invite suspicion from society are expressly prohibited. We have made this known throughout the Group and work to prevent corruption through our corporate activities.
In our business development, multiple relevant divisions perform comprehensive checks and evaluate and work to prevent the risk of corruption in order to eliminate antisocial forces, prevent money laundering, eliminate corrupt transaction methods, prohibit insider trading, and to evaluate entertainment and gift-giving and donations to politicians and political groups.
Related Financial Penalties, Charges, and Settlements
In 2020, there were no serious legal or regulatory violations caused by non-compliance with rules related to bribery prevention, and there were also no financial penalties, charges, or settlements related to corruption.
Promotion Organization
In the OPEN HOUSE Group, our President & CEO has overall responsibility for compliance-related initiatives and advances the company-wide compliance system. The Board of Directors is responsible for making decisions on compliance-related initiatives and managing the progress. It also works to improve the compliance system for planning and holding compliance education and training sessions, managing a dedicated hotline for reports on compliance violations, etc. and carrying out other measures.
The consultations and reports to the internal hotline, etc. are regularly reported to the Board of Directors.
Employee Education
As compliance education for our employees, the OPEN HOUSE Group regularly holds education and training sessions on our Corporate Philosophy, Corporate Principles, and Employee Code of Conduct, as well as training to increase awareness of prohibiting bribery and preventing corruption. We also proactively hold compliance meetings with employees to gauge broadly the risks and issues including items of concern related to fraud and the workplace environment.
Furthermore, by regularly raising awareness to act in accordance with the items stipulated in the Employee Code of Conduct, we work to create compliance awareness among our employees.
Creating and Operating a Reporting System
Based on the Whistleblower Protection Act, the OPEN HOUSE Group has established a compliance hotline for consultations and reports from our employees and business partners. Representatives of the OPEN HOUSE Group or third-party organizations receive consultations and reports provided by the OPEN HOUSE Group's employees and business partners. The compliance hotline covers a broad range of consultations and reports, including improper actions with respect to laws and regulations, internal rules, general social norms, and corporate ethics, as well as sexual and power harassment, employment issues, workplace environment issues, bribery, and expensive entertainment.
We have stipulated internal rules, and work to create awareness to ensure that the reporter is not identified while the report is being investigated and that the position of the reporter is preserved. Furthermore, reports from employees and business partners of our subsidiaries are received by the parent company, Open House Co., Ltd., as well.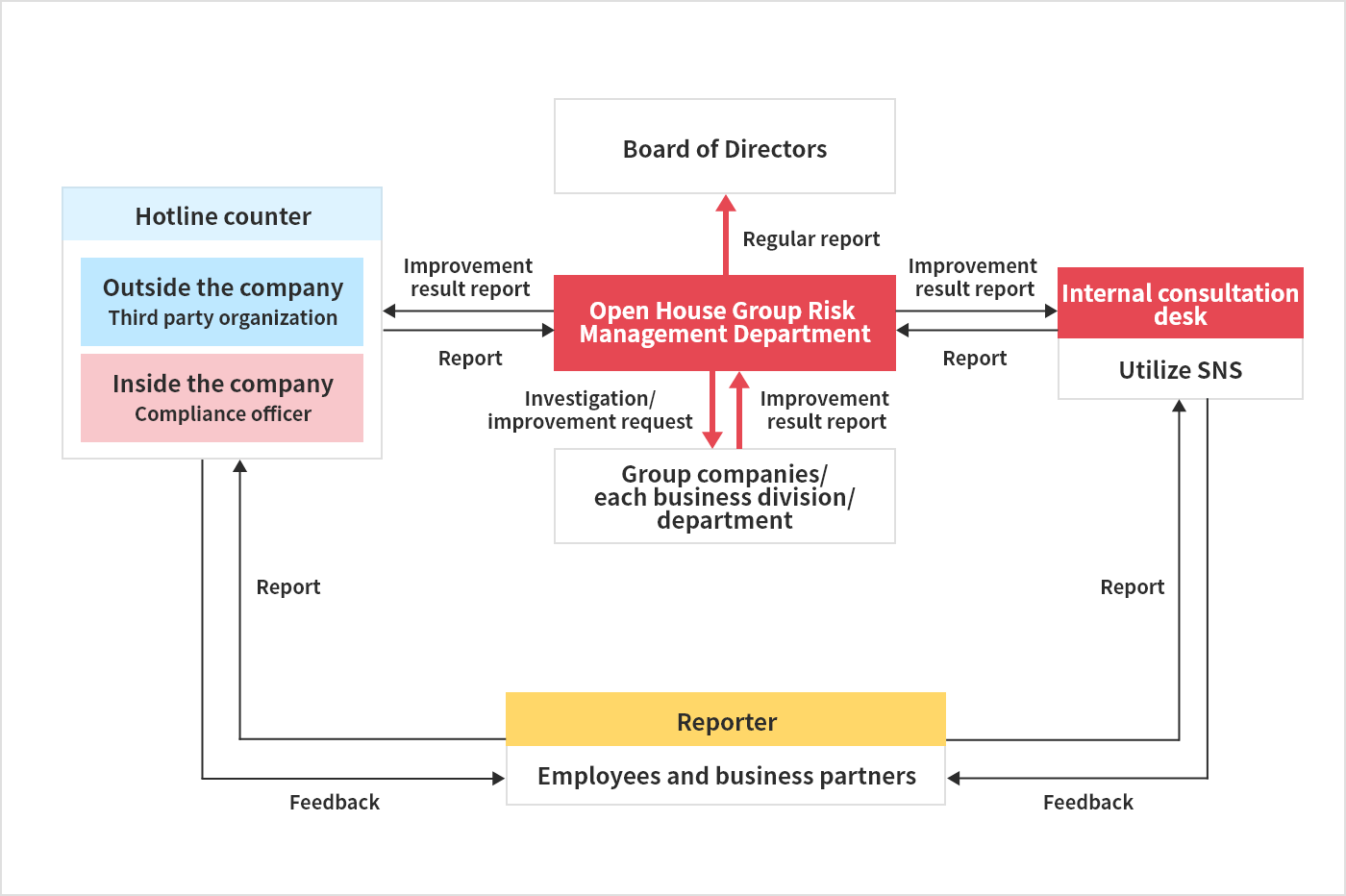 Number and Details of Consultations and Reports (OPEN HOUSE Group Overall)
The details of consultations and reports from the Group's employees and business partners are as follows.
| | FY2018 (ended September 30, 2018) | FY2019 (ended September 30, 2019) | FY2020 (ended September 30, 2020) |
| --- | --- | --- | --- |
| Workplace environment | 7 | 8 | 7 |
| Reassignments, job separation | 1 | 5 | 0 |
| Internal rule violations | 5 | 1 | 1 |
| Other | 0 | 1 | 4 |
| Total | 13 | 15 | 12 |