Sustainability
Sustainability
Providing and Ensuring Product Safety and Security, and Promoting Customer Satisfaction
Initiatives to promote customer satisfaction
The OPEN HOUSE Group strives for a customer-first approach in operating its business, as cited under its Corporate Philosophy of remaining "committed to pursuing 'houses that customers want' honestly and constantly," and as furthermore stated under its Corporate Principles such that "all decisions are customer-driven."
System for promoting customer satisfaction
To improve customer satisfaction, the OPEN HOUSE Group has established the Customer Service Office. The Customer Service Office shares customer feedback with relevant departments in a timely and appropriate manner, and then once again aggregates and keeps a record of such content after relevant departments have taken action regarding such feedback. We respond to customer opinions on an individual basis and also subsequently apply such feedback to our business operations. The amount of feedback received by the Customer Service Office has increased by more than 30% annually due to improved awareness through initiatives of the Customer Service Office.
When it comes to single-family homes, we communicate with all of our customers within one month after contract signing and accordingly instruct them to contact our Customer Service Office if they have any questions down the road. We also seek to improve our service by making use of a questionnaire regarding our handling of everything from the contract to delivery, administered to all customers who have purchased a single-family home.
Management is provided with reports regarding such customer feedback on a regular basis. We also carry out various training sessions for our employees based on such customer feedback at least once a month.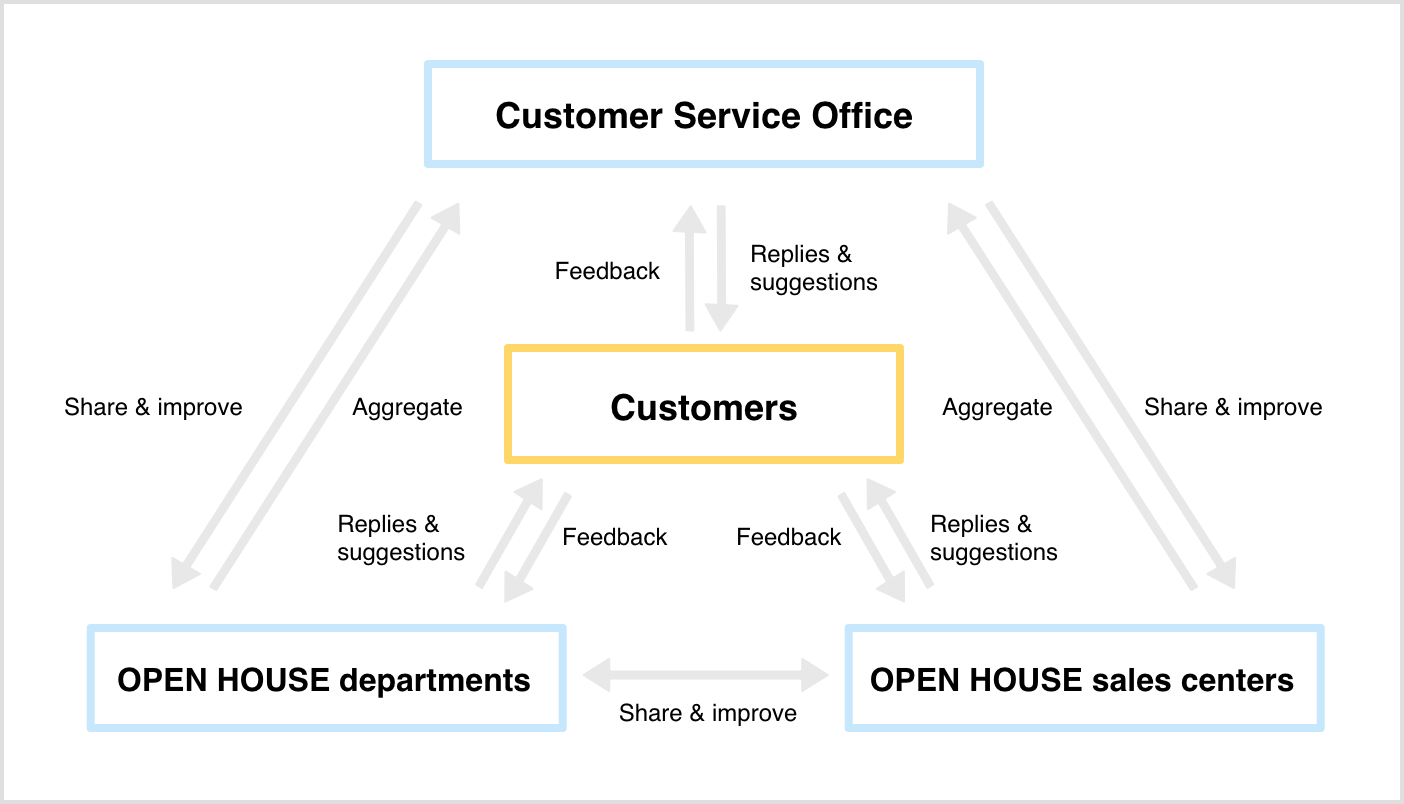 Creating safe and secure products
The OPEN HOUSE Group's company Open House Co., Ltd. creates and offers products that are duly equipped with attributes that include earthquake resistance and durability, thereby enabling its customers to live with peace of mind long after having purchased their own homes.
We accordingly engage in various initiatives with safety and security in mind, starting with a ground investigation and ensuring ground strength prior to construction, and extending to earthquake-resistant housing design and after-sales service subsequent to delivery.
The OPEN HOUSE Group's company Open House Architect makes proposals that comply with the housing performance indication system at customers' request. The housing performance indication system is designed to allow comparison and consideration of the functions of newly-built homes such as earthquake resistance and energy-saving in advance. The system involves objective evaluations of the home by a third-party institution at the design and construction phases according to common rules.